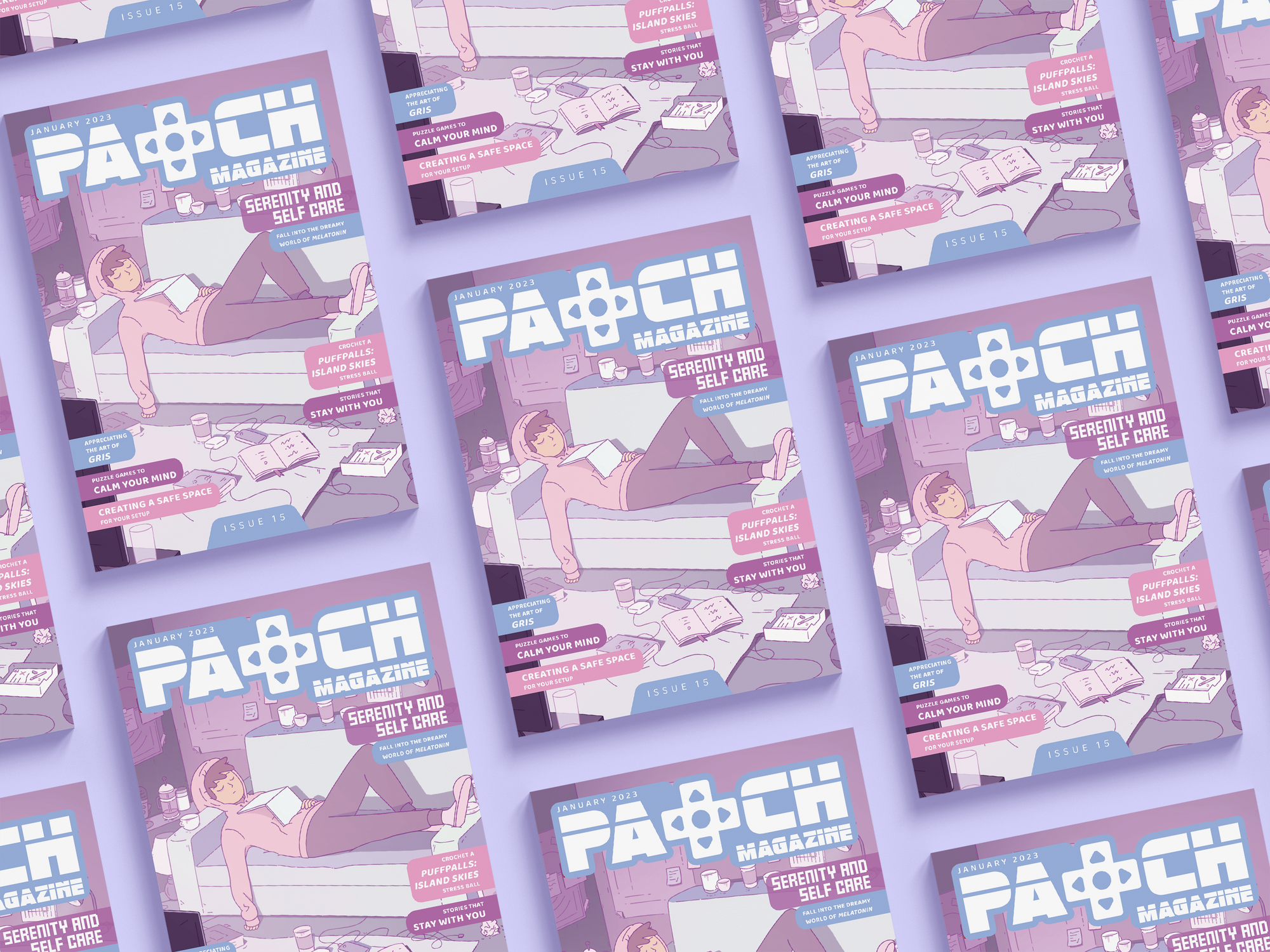 WHAT IS PATCH MAGAZINE?
We are an independent magazine covering video games that are created by independent developers or studios (otherwise referred to as 'indie games'). Patch Magazine was founded out of a desire for a fun and friendly space where everyone feels welcome to get involved in the indie gaming world. Our team is made up of passionate gamers across the globe, but we are primarily based in the United Kingdom, where we ship our magazines from.
Within the last decade or so, the indie gaming industry has seen unprecedented growth, with the success of games such as Minecraft (200mil+ sales) and Among Us (100mil+ downloads) capturing the attention of domineering publishers. But it's not only the room for growth that makes indie games worth paying attention to; the lack of restraints that come with producing a game independently allows for beautiful, one-of-a-kind creations that can elicit a much deeper playing experience. Once the least desirable method of producing a video game, independent developers and studios are now flourishing, with social media and online news outlets playing a huge role in community-backing. This is something that Patch Magazine is fostering in a unique way, with bite-sized, monthly magazines, incorporating everything from anticipated game releases to puzzles and crafts.
We want to immerse people in the world of indie gaming by providing them with the opportunity to enjoy their favourite hobby even when taking time away from their monitor. Patch Magazine launched in September 2021, and since then we have worked with a breadth of influencers and developers, gaining notability within the community alongside a growing, enthusiastic and loyal readership. We have collaborated with industry names like BlueTwelve Studio (developers of Stray) and Spiral Circus Games (developers of Silt) to create bespoke, illustrated cover artwork. And whilst we work online, we also strive to maintain a physical presence in the community, being asked to attend and write about events such as Playful by Nature at the Natural History Museum in London. We have exciting plans for the future and hope you'll join us on the journey.
SOME OF OUR COLLABORATORS
THE PEOPLE BEHIND IT
Jemima

FOUNDER & EDITOR-IN-CHIEF

✉️ jemima@patchmagazine.co.uk

Chloe

MANAGING EDITOR

✉️ writing@patchmagazine.co.uk

Natasha

CREATIVE DIRECTOR

✉️ design@patchmagazine.co.uk
Caroline

OPERATIONS ADMINISTRATOR

✉️ contact@patchmagazine.co.uk

Charlie

MARKETING MANAGER

✉️ marketing@patchmagazine.co.uk

Katya

SOCIAL MEDIA MANAGER

✉️ marketing@patchmagazine.co.uk
Kara

COMMUNITY MANAGER & WRITER

✉️ marketing@patchmagazine.co.uk

Taty

WEB DEVELOPER

🌐 tatianabernardo.work

Bethany

PROOFREADER & WRITER

💬 Twitter: @brainbird_
Sam

WRITER

💬 Twitter: @samw_writing

Khatiti

ILLUSTRATOR

💬 Instagram: @lavenderloops8

Kyle
Melissa

Emily

WRITER

💬 Twitter: @emilybalham

Valencia

ILLUSTRATOR

🌐 palevius.carrd.co
Pumpkin

WRITER

🌐 youtube.com/aclumsypumpkin

Hannah

ILLUSTRATOR

💬 Twitter: @bunnihunie

Dana

DESIGN ASSISTANT

💬 Instagram: @aoyuna_